Diplomacy
Jump to navigation
Jump to search
Diplomacy involves peaceful relations between nations and is built on relations, infamy and interests.
Relations is a bilateral value between −100 and +100 that determines the overall diplomatic standing between two countries. Relations are categorized into seven levels, based on the current relations score.
| | | | | | | | |
| --- | --- | --- | --- | --- | --- | --- | --- |
| Score | −100 to −80 | −79 to −50 | −49 to −20 | −19 to 19 | 20 to 49 | 50 to 79 | 80 to 100 |
| Relation level | Hostile | Cold | Poor | Neutral | Cordial | Amicable | Friendly |
Many diplomatic actions are blocked if relations are above or below a certain level, and starting diplomatic plays generally requires neutral or worse relations. Additionally, the relation score, along with attitude, impacts AI's acceptance of diplomatic actions and its willingness to join a side in diplomatic plays.
The primary way to change relations is through the

 Improve Relations and
 Damage Relations ongoing diplomatic actions, but most diplomatic actions affect relations, as do diplomatic incidents and various events.
Please help with verifying or updating this section. It was last verified for

version

1.2.
Rank
Infamy
For attacker
Great power
+20%
+20%
Major power
+10%
+10%
Unrecognized major power
+50%
−30%
Minor power
Unrecognized regional power
+40%
−40%
Insignificant power
−10%
−10%
Unrecognized power
+30%
−50%
Infamy represents a country's perceived aggression in the world. Infamy begins at 0 and can reach a maximum of 1000. Infamy primarily increases due to diplomatic plays, as most war goals add infamy, but certain other actions and events can add infamy as well. Infamy decays at a yearly base of −5 yearly, and this is increased up to −6.25 by having surplus

influence.
The amount of infamy gained is modified by a country's rank and recognition. Countries get more infamy the higher rank they have, and similarly more for the higher rank their target is. Unrecognized countries generate +40% more infamy than equivalent recognized countries, but generate −40% less infamy for their attacker. The amount of infamy generated by each rank and the rank of the target can be seen in the table to the right.
The amount of infamy gained by diplomatic plays is modified by the population of the targeted state or country. The population multiplier is calculated as
, where is valued in million and is 5 or 50 for state target or country target respectively.
| Population | Multiplier (targeting a state) | Multiplier (targeting a country) |
| --- | --- | --- |
| 0 | 1 | 1 |
| 100K | 1.3 | 1.3 |
| 1.33M | 5 | 5 |
| 10M | 5 | 31 |
| 16.33M | 5 | 50 |
| 20M | 5 | 50 |
The amount of infamy a country has is categorized into four levels, and each affects how AI countries view and interact with the country. Each infamy level also increases the cost of maintaining diplomatic pacts and actions.
| Level | Infamy | Pact cost |
| --- | --- | --- |
| Reputable | 0 to 24.9 | 0 |
| Infamous | 25 to 49.9 | +25% |
| Notorious | 50 to 99.9 | +50% |
| Pariah | 100 and above | +100% |
In particular, if a country reaches Pariah status, great powers can use the

 Cut Down to Size diplomatic play, which returns recent conquests and releases subjects if enforced.
Infamy is tied to the diplomatic incident mechanic. In the vast majority of cases, any diplomatic action a country takes – such as demanding land in a diplomatic play or violating a neutral country's sovereignty during war – that increases infamy also creates a diplomatic incident localized at a particular strategic region on the map. This adds a relation penalty to all countries with an interest in the region, based on the amount of infamy gained in the incident.
Not to be confused by interest paid from treasury debt
Interests represent a country's diplomatic engagement with a region of the world. A country always has an
 active interest in regions where it or a subject owns states and can declare interests in other regions. A country can also engage in diplomacy with its immediate neighbors, even without a specific interest in that region.
In order to start or join a diplomatic play, a country must have an interest in the region where the play is located. This can be used advantageously when attacking a country with states in many regions, as the initial wargoal can be targeted to a region where the country's rivals have no interest and thus cannot join the play.
Additionally, colonization requires the colonization nation to have an interest in the region, and note that
 colony states do not count for maintaining an interest in a region, at least until the colony has completed colonizing the state region.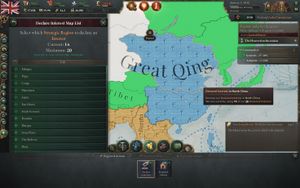 A

 declared interest represents a country declaring that a strategic region is of importance to it, perhaps because they plan to colonize it, or because they want to prevent a hated rival from expanding into it. A country can declare an interest in any region that is either coastal or adjacent to a region where they have an inherent interest. The number of declared interests a country can use depends on its rank and its naval power – a great power can choose to have its fingers in a great many pies, while an insignificant power is limited to acting only in regions where they already have land.
Often, a nation should actively convert declared interests into active interests. This is easiest with Great and Major Powers, as they can easily puppet insignificant or unrecognized powers.
A country may declare as many interests as its Maximum Declared Interests cap. This cap is determined by ranking, and the presence of Naval Bases in the country. If

 Isolationism is enacted, the maximum number of declared interests is reduced by −50%.
| | Country Rank |
| --- | --- |
| +5 |  Great power |
| +3 |  Major power |
| +2 |  Unrecognized major power |
| +1 |  Minor power |
| +1 |  Unrecognized regional power |
| Per level | With  Naval Base method |
| --- | --- |
| +0.1 |  Man O' War |
| +0.12 |  Ironclad |
| +0.15 |  Monitor |
| +0.17 |  Dreadnought |
| +0.2 |  Battleship |
Please help with verifying or updating this section. It was last verified for

version

1.3.
Diplomatic actions are one form of diplomatic engagement. Each diplomatic action can be categorized by whether it requires the target to accept and whether it happens immediately or establishes a pact. Diplomatic actions can be found in the Diplomatic Actions tab of the Diplomacy Lens or the Interactions tab of a country's info window. Possible diplomatic actions are also shown when right-clicking on countries on the map.
An

 obligation is a promise that a country can use to convince another country to agree to their proposal. A country can offer an obligation as a sway in diplomatic plays or as an extra incentive in diplomatic agreements. Obligations can also be earned, or absolved when owed, by taking on the debt of another country or

 bankrolling, which has a random chance of 0.2% per week to gain an obligation.
Once an obligation has been obtained, it can be redeem later similarly to offering the obligation. If a country rejects a proposal when an obligation has been used, they suffer a prestige malus for 5 years as well as −50 relations with the country.
An obligation is valid for ten years, after which it expires. While a country owes an obligation, it cannot oppose the country owed the obligation in diplomatic plays.
The following actions happen immediately and do not form any pact. Unless otherwise noted, the actor and target must be at peace with each other and have an interest in the same region.
Action
Requires Acceptance
Conditions
Effects
 Expel Diplomats

Is not improving relations with target
Has not expelled target's diplomats within the last five years

Lose −30 relations with target
Target's diplomats are expelled for five years
Gain +10 infamy

 Take on Debt

If owes obligation to target,

Absolves obligation to target

Otherwise, if doesn't have an obligation from the target

Gain an obligation from the target

Otherwise, gain +30 relations with target

 Redeem Obligation

Target owes actor an obligation
Can be done while at war with target or without overlapping interests

Gain +30 relations with target
Absolves target's obligation

 Violate Sovereignty

If target accepts:

Create diplomatic incident with 15 infamy
Target joins actor's side in war

If target declines:

Create diplomatic incident with 10 infamy
Target joins enemy side in actor's war
Other countries may join enemy side in actor's war
The following actions form one-sided pacts; they never require approval and can be ended any time by the actor. Most cost

influence to maintain, scaled by the target's Rank.[1]
Action
Cost
Conditions
Effects
Auto-break conditions
 Improve Relations
150

Gain +0.03 relations with target daily to a max of +50

 Damage Relations
100

Lose −0.03 relations with target daily to a max of −50

Has  Cold or lower relations

 Rivalry
—

Has  Cordial or higher relations

 Embargo
100

Blocks all imports and exports by target to and from the actor
Lose −0.01 relations with target daily

 Bankroll
100

Gain +0.03 relations with target daily to a max of +80
Target receives 20% of the actor's income
0.2% chance weekly to absolve an obligation to the target or gain one from them
See also: Subject

Diplomatic pacts come in two types – mutual and subject – and always require acceptance. For mutual pacts, both parties pay the

influence maintenance, scaled by the other's Rank. Either party can break the pact later without approval from the other. For subject pacts, only the senior partner pays the influence maintenance, and the junior partner cannot break the pact without approval, except for

 customs unions. The target of a subject pact must also be independent, as only one type of subject pact can be active for the junior partner at a time. Subject pacts also have rank limitations, where typically the actor must be a higher rank than the target.
Mutual pacts
Pact
Cost
Conditions
Effects
Auto-break conditions
 Alliance
200
 Defensive Pact
150
 Trade Agreement
50

Has researched  International Trade
Neither country has  Isolationism enacted
Both countries are independent or autonomous subjects
Neither country is subject to the other
Neither country is a junior member of a  customs union
At peace with target
Does not have an customs union with target
Has greater than  Poor relations
Subject pacts
Pact
Cost
Conditions
Effects
Auto-break conditions
 Customs Union
25

Has researched  International Trade
Neither country has  Isolationism enacted
Is not a subject of the target
Is not a junior member of a  customs union
Is at least a  Minor Power
At peace with target
Has  Cordial or higher relations
Has market access to the target (both have ports or adjacent states)

Gain +1 relations with target daily to a max of +80
Countries form a common market
If broken:

Lose −30 relations with target

 Protectorate
25
 Tributary
25
↑

The files can be found in the folder /victoria3/game/common/diplomatic_actions