Ottoman Empire
Jump to navigation
Jump to search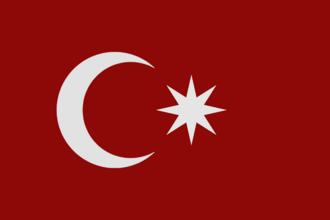 ---
Capital
:
Constantinople, Eastern Thrace
---
Government Type
:

Sultanate
---
Primary Cultures
:
Turkish
---
State Religion
:

Sunni
---
Country Tier
:
Empire
---
Country Type
:
Recognized
"The Ottoman Empire has been embroiled in various wars through the beginning of the 19th century, and while some reforms have been attempted, more will be needed to prevent the decline of this empire."
The Ottoman Empire is a


 Great Power in the Middle East and southern Europe. It begins in a strong, but precarious position, with the Sick Man of Europe hanging over its head.
The country's name changes to Turkey if it stops being a monarchy.
After being officially founded at the end of the 13th century, the Ottoman Empire finally conquered the city of Constantinople on 29 May 1453, ending the last remnant of the Roman Empire. In the following centuries, the power of the Ottoman Empire grew significantly. At its height, the empire controlled most of the Balkans, North Africa, and Mesopotamia. The Ottoman Empire's power began to wane in the 17th and 18th centuries, as its government institutions became more and more dysfunctional.
Following defeats by Russia and Austria in the 1700s, the Greek Revolution in 1821-1829, and Egyptian conquest of Syria in 1831-1833, the cracks in the Ottoman Empire became more evident. While reforms were enacted, they failed to reverse the decline; although the empire retained nominal control, many of its provinces became independent or occupied by the great powers. In particular, the Ottomans' near total reliance on Great Britain and France was exposed in the Crimean War (1853-1856).
The Ottoman Empire was officially dissolved following World War I, with its core Anatolian territory making up the modern state of Turkey.
If the Ottoman Empire ceases to exist, it can be released by any country that controls Eastern Thrace and four other Turkish homelands, which make up its core states.
The Ottoman Empire starts with three negative modifiers.
Sick Man of Europe: −33% prestige
Outmoded Bureaucracy: −25% Bureaucracy and taxation capacity
Cizye Tax: +0.5 religious tax and −40% conscriptable battalions
One way to remove them is for the player to accomplish certain tasks, Tanzimats, within twenty years. If the player fails, the event Dead Man of Europe happens, which removes the Ottomans' recognition status, making it an


 unrecognized major power. The event also releases all Ottoman subjects, making them independent.
Alternatively, if the player causes a civil war, switches over to the opposing side and wins the civil war, the three negative modifiers will also be removed; the Sick Man of Europe and Tanzimat journal entries will only be removed in patch versions 1.2x and before.
The game defines several tanzimat reforms (cf. wikipedia:Tanzimat) to help guide the player to modernize the state:
Urbanization: Incorporate and have at least 1 Urban Center building in at least 75% of all owned states
Army Modernization: Research  Napoleonic Warfare, have at least 150 battalions, and all barracks use  Line Infantry and  Mobile Artillery or better with no shortages
Reclaim Syria: Own all of Adana, Aleppo, Syria, Lebanon, Palestine, and Transjordan (claims for these states are given)

If Reclaim Syria is completed, Reclaim Egypt is unlocked: Own all of Lower Egypt, Middle Egypt, Upper Egypt, and Sinai (claims for these states are given once the journal is unlocked)

Educational Reform: Raise literacy by 20% and have at least a level 5 university (fully staffed)
Bureaucratic Reform: Change Bureaucracy and Taxation laws and have a bureaucracy surplus
Suppress Separatism: Have 15 years with no secession movement over 50% progress.
Four tanzimat entries must be completed in order to succeed in the reforms.
The Ottoman Empire has several events related to the Tanzimats.
id
The Sick Man of Europe
---
The Ottoman Empire is in a period of steady decline. If we do not reassert Ottoman sovereignty and reclaim our place among the Powers of the world, we risk catastrophe.
---
Flavor text:
"We have fallen, but we can rise again. In an Auspicious Incident we deposed the Janissaries who had maintained their miserly grip on power for centuries, finally alowing reform to be possible. There is much more to do. First, of course, we need to replace the Janissaries with a truly modern military force. But in addition, we must restore the place of Sublime Porte as the very height of civilization. Education, urbanization, and sovereignty shall be the top items of the Ottoman agenda."
---
Is triggered by
Immediately upon starting as the Ottomans
Trigger conditions
---
Gain Sick Man of Europe: −33.0% prestige permanently
Gain Outmoded Bureaucracy: −25% Bureaucracy and −25.0% Taxation Capacity permanently
Gain Ciyze Tax: +0.50 Religious Tax and −40% Conscriptable Battalions permanently
Activates The Sick Man of Europe and the following journal entries:
Tanzimat: Reclaim Syria
Tanzimat: Urbanization
Tanzimat: Education Reform
Tanzimat: Suppress Separatism
Tanzimat: Army Modernization
Tanzimat: Bureaucratic Reform
id
Tanzimat: The Reorganization
---
The Ottoman Empire has succesfully modernized and re-asserted itself on the world stage. A new Era begins for the Ottoman state.
---
Flavor text:
"Sublime. That is the only word for it. To walk the streets of Istanbul and see modern factories and schools, to see the guards practicing their military drill. A landscape once dominated by peasant farmers is now littered with shining cities. And to think that only a few decades ago the empire was on the brink of collapse! Where once the European powers looked upon us with pity and greedily sought to partition our lands, now we see their diplomats gazing in awe at our accomplishments, forced to recognize us as equals. God is good!"
---
Is triggered by
The Sick Man of Europe journal entry completion
Trigger conditions
---
The army could use additional reforms.

Gain Ottoman Army Reorganization: +20% Home Offense, +20% Home Defense, and +25% Weekly Innovation Gain for Military for 5 years
We should re-conquer the Balkans!
Gain  claims on the following states:
Attica
Peloponnese
Crete
Northern Serbia
Southern Transylvania
Northern Transylvania
Our empire runs on paper.
Gain Ottoman Bureaucracy: +10% Bureaucracy for 5 years
id
The Dead Man of Europe
---
The Ottoman Empire has failed to modernize and re-assert itself on the world stage. The vultures begin to circle as the last days of the Ottoman Empire draw near.
---
Flavor text:
"The Sublime Porte falls silent. Just days after announcing his intention to abdicate, most likely under the duress of his ministers, the [Ruler title] has been found dead in his chambers. Much like our precious empire, the [Ruler title] had been suffering from a long, creeping sickness that ultimately made him unable to bear the weight of the crown. A broken and deranged shadow of his former self."
---
Is triggered by
The Sick Man of Europe journal entry times out.
Trigger conditions
---
We belong to Allah, and to Him do we return.
The current ruler dies.
All subjects become independent.
The Ottoman Empire becomes unrecognized
Please help with verifying or updating this section. It was last verified for

version

1.2.
The Ottoman Empire begins as a Sultanate. The

Local Governors and

 Intelligentsia are

 in government, with Sultan Mahmut Osmanoglu supporting the Intelligentsia.
Starting Laws
Power Structure
Economy
Human Rights
Governance Principles
 Monarchy
Economic System
 Traditionalism
Free Speech
 Censorship
Distribution of Power
 Autocracy
Trade Policy
 Mercantilism
Labor Rights
 Serfdom Abolished
Citizenship
 National Supremacy
Taxation
 Land-based Taxation
Children's Rights
 Child Labor Allowed
Church and State
 State Religion
Colonization
 No Colonial Affairs
Rights of Women
 Legal Guardianship
Bureaucracy
 Hereditary Bureaucrats
Policing
 No Police
Welfare
 No Social Security
Army Model
 Peasant Levies
Education System
 No Schools
Migration
 No Migration Controls
Internal Security
 No Home Affairs
Health System
 No Health System
Slavery
 Slave Trade
The Ottoman Empire controls
 Tripolitania as a
 puppet, and has
 protectorates in
 Serbia,
 Moldavia,
 Wallachia, and

 Tunis.
The Ottoman Empire has
 truces with
 Greece until 1837 and with
 Egypt until 1840. It has

 claims on the Egyptian states in Arabia. The Ottoman Empire and Russia have a mutual

 rivalry.
Please help with verifying or updating this section. It was last verified for

version

1.2.
The Ottoman Empire starts with a moderately large, but not very efficient economy.
Starting Statistics

| Statistic | Starting value |
| --- | --- |
|  GDP | 14.1M |
|  Population | 19.6M |
|  Literacy | 16.41% |
| Standard of Living |  Struggling (9.5) |
Anatolia
Name
Type
Homelands
 Arable Land
Resources
State Traits/Notes
Size
Uses
Eastern Thrace
Greek
Turkish
30
4
—
18
—
10
Site of the  Hagia Sophia
Adana


Armenian
Turkish
Kurdish
15
4
44
—
—
12
Ankara
Turkish
65
9
—
—
—
—
Aydin
Greek
Turkish
35
5
48
—
—
15
Cyprus
Greek
Turkish
9
2
—
—
—
5
Diyarbakir
Turkish
Armenian
Kurdish
Mashriqi
Assyrian
40
—
32
—
—
—
East Aegean Islands
Greek
Turkish
5
—
—
—
—
6
Erzurum
Turkish
Armenian
Kurdish
40
9
—
30
36
—
Hudavendigar
Greek
Turkish
40
9
—
—
—
8
Kastamonu
Turkish
35
11
72
—
—
10
Konya
Turkish
40
4
—
—
—
6
Trabzon
Greek
Armenian
Turkish
Kurdish
40
8
—
21
—
9
Balkans
Name
Type
Homelands
 Arable Land
Resources
State Traits/Notes
Size
Uses
Albania
Albanian
50
6
—
24
—
8
(5)
Bosnia
Bosniak
Serbian
Croatian
40
14
—
48
39
—
—
Bulgaria
Turkish
Bulgarian
35
14
—
—
—
2
—
Macedonia
Greek
Turkish
20
9
—
—
—
3
—
Montenegro


Serbian
Albanian
20
4
—
—
24
—
—
Northern Thrace
Bulgarian
Turkish
30
17
—
33
—
6
—
Skopia
Bulgarian
Albanian
Greek
Turkish
30
16
—
36
—
—
—
Southern Serbia
Serbian
Turkish
Albanian
45
14
40
—
36
—
—
Thessaly
Greek
50
11
—
—
—
5
—
Western Thrace
Bulgarian
Greek
Turkish
20
5
—
27
—
10
—
Arabia/Others
Name
Type
Homelands
Region
 Arable Land
Resources
State Traits/Notes
Size
Uses
Baghdad
Mashriqi
Bedouin
Arabia
40
—
—
—
(40)
Basra
Mashriqi
Bedouin
Arabia
42
—
32
6
(40)
Deir-Ez-Zor
Mashriqi
Kurdish
Assyrian
Arabia
20
—
—
—
—
Mosul
Mashriqi
Turkish
Kurdish
Assyrian
Arabia
30
—
36
—
(40)
Kars


Turkish
Armenian
Kurdish
Georgian
Caucasus
10
9
—
5
—
Dobrudja


Bulgarian
Romanian
Turkish
Danubia
10
11
—
7
—
Industry
Resources
The Ottoman Empire starts with the

 Peasant Levies law.

The below is one of many player suggested strategies for Ottoman Empire. Bear in mind, due to the dynamic nature of the game, it may unfold differently for other players.
As a successful revolution removes the truce with Egypt, all negative modifiers and resets Ottoman relations with almost every GP (this includes removing the rivalry with Russia), consider setting a civil war in motion from day one. At the various checkpoints (if possible) , take the option to add other IGs to the revolutionary cause, increasing the ease of the subsequent civil war. Remember to switch to the other side when the Diplomatic Play starts.
It is probably best to focus on military and diplomacy for reforms as you need to fight Egypt in two (or more) wars and reclaim several states each time. For these wars, you definitely do not want GP intervention on the Egyptian side. Also, maximize the military's pay for increased power projection; it'll allow the Ottomans to become a GP.
The Tanzimats don't touch on this, but as the Ottoman Empire is home to several cultures and religions, it might be prudent to adopt

 Freedom of Conscience or even

 Total Separation to stop discriminating against the non-Sunni religions and probably also

 Multiculturalism to stop discriminating against non-Turkish ethnicities.
Remember that, as long as a pop is discriminated against, it will NOT assimilate! You also gain radicals from discrimination. Fulfilling the demands of the Tanzimats is by no means easy to achieve, and yet, it is still not enough. The Ottoman Empire in 1836 is a large multi-ethnic, multi-religious state covering a large area in Europe and Asia. You cannot run it as if it was the Sultanate of Brunei.
The Ottoman Empire has a lot of of states with the potential for

tea plantations. Building those and exporting tea to the United Kingdom is a very profitable plan due to the low construction costs and the British obsession for tea.
On the other hand, the Ottoman Empire does not have sufficient

iron and

coal for full industrialization compared to its size.
It might be tempting to declare war on Egypt as soon as the truce expires. But the Ottoman Empires growth potential is much higher, so the longer one waits, the more one-sided the war will be. However, once war breaks out it is worth taking the state of Upper Egypt on top of the Ottoman claims. Note that if the player causes a civil war, switches over to the opposing side and wins the civil war, the truce will be cancelled. This means that a successful revolution (usually) allows the Ottomans to attack Egypt earlier.
The Ottoman fleet is much superior to the Egyptians'. The war is best fought by simply holding both fronts (Levant and Tripolitania), while preparing a naval invasion in Upper Egypt. Once a foothold is established there, the Egyptian Army will collapse.
The Healthy Man of Europe
Starting as the Ottomans, be the Greatest Power while having max level Public Health Insurance
Notes: This table lists playable countries divided by superregion and region. Starting countries are listed by the region of their capital state, with formable and releasable countries not present at the start listed separately by superregion. Decentralized (non-playable) and special cases are listed separately.